Billing and resources
Account types#
We have two types of accounts:
Demo accounts#
Absolutely free
Available immediately after registration
Limited in use
API not available
Paid accounts#
Available after credit card sign-up or signing a contract
API available
Transparent tariffs
Pay as you go
Account quotas#
Demo accounts#
By default, 10 free Test Runs and 2GB storage are available on demo accounts
Contact us for individual demo limits
Paid accounts#
Only limitations for paid account is 50GB storage.
But you can contact us for free storage limit increase.
Tariffs#
Admin requirements
You need Admin role to manage your account
Information about tariffs provided in Billing section of Profile page.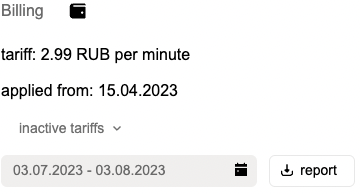 Here you can:
See your current tariff
See your past and future tariffs
Get billing report for period
Resources#
Information about resources provided in Resources section of Profile page.

Here you can:
See your storage usage and limit
Clear you storage
See free Test Runs quota